SECURITY CHALLENGES IN THE DIGITAL TRANSFORMATION OF RETAIL BANKS
Keeping software secure with a safer strategy
As part of the ongoing digital transformation of retail banks, an evolutionary trend towards more direct models and the use of predominantly digital channels is driving significant investment in new customer facing systems, as well as increasing the number of apps for smartphones and digital tablets.
These new digital channels are intended to offer greater reliability and efficiency, making it easy for customers to interact and conduct their banking activities. However, if a solution brings with it the potential for security breaches, it rapidly becomes useless. Making sure software solutions are secure is therefore a vital aspect in successfully meeting business and banking requirements.
Utilising the 'Secure Software Development Lifecycle' (SSDLC) process provides software engineers with a straightforward, complete route to ensuring security and quality at each milestone of the software development process.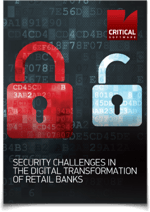 In this free white paper, you can learn more about:
Insightful software security trends and some of the reasons why a new approach to development is necessary

The full breakdown of the SSDLC process and how it differs from traditional software development methods

The benefits and improvements this process can offer organisations operating in the finance sector

An example of how this process was used during a software development project for a large European bank
Share this page: