LEARN ABOUT OUR STATE-OF-THE-ART MARITIME INFORMATION SYSTEM
Oversee NAVTEX is a state-of-the-art information system designed for organisations charged with promulgating and broadcasting maritime safety information through the international NAVTEX system.
Oversee NAVTEX was designed and developed in cooperation with NAVTEX authorities, with the goal of improving the management and co-ordination of NAVTEX services operating on any number of stations or transmitters.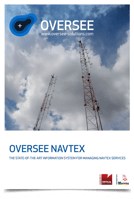 In this flyer you will discover how Oversee NAVTEX:
Allows organisations to more easily manage a single NAVTEX station or an entire national NAVTEX service

Improves operator efficiency

Provides support for better co-ordination between stations and external organisations

Accurately monitors efficiency and effectiveness

Can be tailored to the needs of your organisation
To find out more or to talk to one of our experts about how Oversee NAVTEX can help you, fill in the form opposite or call us.
---
Share this page