ExoMars and beyond...
LEARN ABOUT OUR WORK IN THE SPACE INDUSTRY
The ExoMars missions are the first of ESA's Aurora programme, aiming to investigate the Martian environment while demonstrating new technologies and paving the way for a future Mars sample return mission. This case study reveals how CRITICAL Software is contributing to this important mission.
Read about: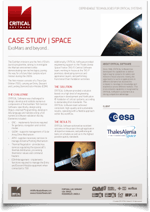 Key details of ESA's Aurora programme
How CRITICAL Software is assisting with the first of several planned missions
What solutions we employed to bring about a successful outcome within a demanding time-frame
Share this page: