ENROLMENT OPTIONS TESTING PROJECT: EOT
LEARN ABOUT OUR WORK IN THE ENERGY INDUSTRY
In 2011, work began on the Foundation Stage of the Smart Metering Implementation Programme (SMIP), in which various energy suppliers started to install smart meters in the UK. In 2016, the nationwide network, established and manged by The Data Communications Company (DCC), was switched on.
In the early stages, many smart meters were implemented using SMETS1, an initial set of technical standards created by the government that equipment was required to conform to. In order to communicate with SMETS1 smart meters, energy suppliers had to put in place their own data and communications infrastructure arrangements. This presented a significant problem when DCC's services went live and operations commenced, as millions of smart meters already in place were operating outside of the national standard infrastructure.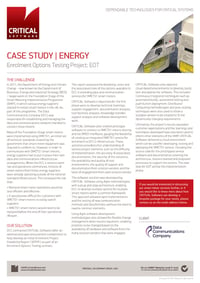 To help solve the communication problem resulting from this, CRITICAL Software was contracted to develop a report to assess the feasibility, costs and associated risks of the options available to DCC in providing data and communication services for SMETS1 smart meters.
Find out how we met and exceeded our customer's expectations for this project in our informative case study.
Read about:
The risks caused by the non-integration of SMETS1 smart meters
The role CRITICAL Software played in this project and our objectives
The methods used to deliver the overall solution
Share this page: