ARTIFICIAL INTELLIGENCE & MACHINE LEARNING
THE FUTURE IS NOW
Artificial intelligence (AI) and machine learning (ML) are game changers for the business world. Download our flyer and discover how CRITICAL Software's AI & machine learning capabilities can transform your business.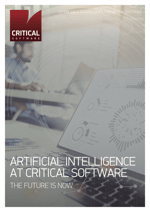 Learn more about:
How AI can be used to tackle some of the most pressing business challenges today

How AI can be used to more intelligently analyse data

How AI can be used to improve the ways businesses find, process and use information

CRITICAL Software's own experience in using AI to tackle key industry problems
To talk to us about your businesses requirements and how our AI techniques might be able to help, contact us today.
Share this page: